Jon Swain - writer and foreign correspondent


Ewan and I

A short bike ride with Ewan McGregor

He's famous for acting and biking, but what really drives Ewan McGregor?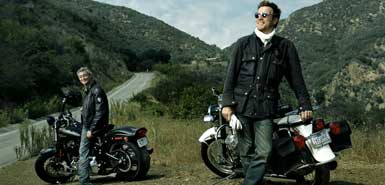 Jon Swain

The Sunday Times magazine, 19 October 2008


As every biker knows, every journey, no matter how short, is an experience to be relished. It matters nothing that other bikers have made it before, and it does not always have to be a great adventure to be memorable, because such journeys are a good way of learning about oneself and the world. There is something mind-expanding about travelling through changing landscapes on a motorcycle. This is a machine that makes you feel part of the lands you travel through: the smells, temperatures and even – through the tyres – the surface of the Earth. You identify with the people who wave at you; interestingly, most people cheer up when they see a bike. At the same time, you are alone on the machine, no matter how many people are around.
Ewan McGregor found all of this to be true on the two marathon motorbike rides he made across the world: Long Way Round, in 2004, from London to New York via central Asia, Mongolia and Siberia; and Long Way Down, from John o'Groats to Cape Town, which he completed in 12 weeks last year. Both were with his good friend Charley Boorman and were intrepid trips, even with a film crew in tow.
They gave him respite from what is otherwise a very busy acting life and a bit of solitude too, which McGregor admits he increasingly desires.
Today, he says getting on the bike that carried him so many miles, which he still owns, instantly conjures up that feeling of ultra-relaxation that riding all day, knowing you will be riding all of the next day and the day after, breeds. "There is nothing like it," he says a little ruefully, clearly part of him resenting the intrusions that a career as a movie star has imposed on life.
And it is true that, in between the two trips, he made a lot of films, some acclaimed, some dreadful. One reviewer wrote recently that there had been "little for McGregor to be proud of this side of the millennium". The implication was that McGregor somehow failed to live up to the early promise he showed, for example, in the cult film Trainspotting, where he played the leading role of the heroin addict Mark Renton; this despite his famous role as Obi-Wan Kenobi in Star Wars.
Is this suggestion fair? A glance through his filmography shows McGregor has notched up a number of prestigious acting awards. His output of films is prodigious at his age. He ranks as one of Britain's most sought-after movie idols, and such is the relentless pace of work he maintains that until going off on the motorbike rides, he had little time to stop to reflect on his career.
I wondered whether this was becoming a problem: he is young and, despite so much success, still learning that to live properly it is necessary to parcel out life into the correct proportions of action and inaction. "What I love about these trips is that it is like being a child again," he said. "You don't have any responsibilities other than to have a rough idea where you are going and petrol in the tank. After acting in movies and being so busy, there is something extraordinary about parking your bike and putting your tent up.
"You know that school of thought that we are all really nomadic beasts? Well, I find that sense of wonder and slow pace quite satisfying. You stop somewhere and you move on the next day."
He paused for a moment in thought. "But it is quite difficult to bring it back home with you. Suddenly you are back and you have three months of publicity to catch up on. This person needs you for a fitting, that person for something else. It makes you want to be back in Siberia."
So when I proposed to ride with McGregor in California, where he is now living, I wondered how he would react to my encroachment on his biking world. McGregor is known to jealously guard his privacy. But he jumped at the idea, and turned up for the ride togged up like a latter-day Lawrence of Arabia on a stunning cream-and-black Moto Guzzi, complete with silk scarf and what looked like aviator's gloves, but which turned out to be cheapies from the garden centre. It was clear he was able to extract real enjoyment from just a short ride through the Californian sunshine.
Acutely aware that as a relative newcomer to modern motorcycles I did not want to turn up on anything too hard to ride, I borrowed a new Harley-Davidson – the classic American brand is about the only surviving one more ancient than Moto Guzzi. I have one at home and it seemed only right to ride one in the States.
The big armchair machine I borrowed was a Softail Cross Bones, with a 1584cc engine, in matt black with 1940s styling. It is similar to the stripped-down Knucklehead affectionately known as a "Bobber" that Lee Marvin rode in the 1953 movie The Wild One and leaves an appropriate impression of blood-curdling darkness until it starts up, when the overwhelming impression is one of deep, bubbling but very loud noise, the famous Harley trademark. A car alarm is set off by the vibration as I pass. This could, I realise, be embarrassing. I need not have worried. McGregor's Moto Guzzi comes with a functioning police siren that, with boyish glee, he delights in demonstrating on a busy highway.
California is well known for having some of the best motorcycling roads in the world. But compared with McGregor's challenging earlier rides, the short trip I proposed we should make risked, I feared, being seen by the 37-year-old Scottish-born actor as dull and artificial. The plan was to ride into the Santa Monica mountains behind LA, then wind down onto the Pacific Coast Highway for a bit – one of the best riding roads in the US. To reach it we would ride the Topanga Canyon loop, with its steep side roads, which I was told were a blast to explore by motorbike, shrinking to a single lane hugging the side of the mountain, climbing and descending with no guard rails and little room to manoeuvre until the road comes down and meets the coast.
We would stop off for fish and chips at Neptune's Net in Malibu, where the roaring thunder of motorcycles mingles with the sounds of sea and surf. It is a famous bikers' haunt, California's answer to the Ace Cafe in London, the world-famous gathering point for UK bikers. Our journey paled in comparison to the rough road from Yakutsk to Magadan in Siberia that McGregor had ridden in 2004 in Long Way Round. That road is known as the Road of Bones because it was built by Stalin's political prisoners. McGregor regards it as the most memorable and arduous part of his 22,345-mile trip from London to New York. Much of the stretch was through mud and marshland and across bridgeless rivers; the thought that the bones of dead prisoners were broken up and used instead of gravel to build the road sent shivers down his spine. But, he said, perversely, he loved being on that grim road.
"I don't think I have ever been further away from people before in my life. I really liked that feeling of being remote," he said. "It was light almost all night, which was quite a novelty in itself. I liked very much going to sleep and then waking up in the middle of nowhere."
Fame usually carries a certain aura about it, and spending time with someone who is well known has a cachet of its own. I found the most refreshing thing about riding with McGregor was that this aura, which few of today's celebrities deserve or justify, was not what I remembered about him. This, I thought, is a very approachable star who has good friends and exudes loyalty and decency. We met at Venice Beach, not far from where he lives with Eve, his French production-designer wife and their children, Clara, 12, Esther, 6, and Jamiyan, 7, a girl they adopted from Mongolia. After his marriage and Clara's birth in 1996, he had made a point of staying out of California, determined to prove he could be a star without having to move there and embrace the Hollywood lifestyle. But in recent months he wearied of London and has now moved to LA. "I fancied a change," he said, "and we have a house here, so it seemed silly not to use it. I'd just had enough of London. I am always on the move anyway. I suppose wherever Eve and the kids are is home. Wherever I am in the world, I come back to them."
LA is a far cry from the Scottish town of Creiff, where McGregor was reared, the son of teachers who encouraged his interest in acting from an early age. And in 1989 he left for London to train at the Guildhall School of Music and Drama.
There is no doubt that the free and windy hills of his native land helped shape the wanderlust he harbours amid the high demands of his acclaimed Hollywood career. So, too, did the influence of two men who made him realise that there were places to visit that were not just holiday destinations: Ted Simon, the British author of Jupiter's Travels, whom McGregor considers to be the father of global motorcycling, having ridden a Triumph motorbike 78,000 miles round the world in four years in the 1970s, and Ray Mears, the survival expert who taught McGregor self-sufficiency during an expedition to the Central American rainforest.
In LA, his stable of motorbikes – which includes a huge purple Harley with a cigarette lighter that he once rode from Alabama to California, smoking all the way – has helped him to preserve his individuality. He tells me he is thinking of putting fluorescent lights on it.
It did not take long after we threw our legs over the saddles and set off on our ride to discover that there is quite a fun side to McGregor. He has an eye for the offbeat and was prone to making odd random remarks. Startled, as we paused in our ride for a bite, by a long line of pelicans beating their way northwards above the Malibu surf, he exclaimed: "I have never seen that before. The one in front must have really big cojones." Quite why he thought the leading pelican should be so well endowed he never explained. A few minutes later another odd sight caught his eye – a seagull perched on the saddle of a parked Harley. "If it shits all over the seat that will be really funny," he said, looking round mischievously to see if he could spot the bike's unfortunate owner.
This was not a tortured artistic soul, I observed, as his face lit up like a schoolboy at the offer of an ice cream. He was also kind (as the 10th person asked for his autograph), unassuming, and quick to give reassurance that we would not be racing each other on our bikes. His bike was very old and he wanted to go slowly anyway, he said. He also helped to pick up my Harley when it toppled over on a gravel viewpoint overlooking stunning hills during the photoshoot, shrugging off my embarrassed thanks. "That's all right. Harleys don't belong on gravel," he said. "Anyway, bikes need a ding to give them some character."
Many of the African countries he had travelled through on his way to Cape Town I knew well, almost too well. As a foreign correspondent I had seen them at their worst. In January, just months after McGregor rode through Kenya, which he adored, the country tore itself apart in ethnic violence in which more than 1,000 died, many hacked or burnt to death. He saw none of that, but though we were there at different times, both of us found invariable and touching the hospitality we received from some of the poorest of the poor.
McGregor was born with a love of motorbikes. His parents did not want him to have one, and when he finally got one he kept it secret from them for years, hiding his equipment in his neighbour's flat when they visited and studiously ignoring his bike when they walked past it in the street. Since then he has educated his family into the brethren of people who have fun on two wheels. His father and brother, Colin, a former RAF Tornado pilot, have both learnt to ride.
My first acquaintance with bikes was a long time ago in wartime Cambodia. It was a favoured form of transport for two famous journalists in particular – Sean Flynn and Dana Stone. Their disappearance in the Cambodian jungle in 1970 on their motorbikes made worldwide news. Neither Flynn, son of the ultimate swashbuckler Errol Flynn, nor Stone, a postman's son from Vermont, ever came back from their ride. They were captured and murdered – almost certainly by the Khmer Rouge. They were members of a small group of journalists "who had acquired too much bravery", according to friends.
McGregor, I realised, is different. This is not a man who has had to struggle much in life, and he gives the impression of having little to prove. He says he has been lucky never to have had to work for money. It is all the more impressive, therefore, that he takes little for granted and, while careful to draw the line at unreasonable danger, is not afraid of testing himself. He talks of a solo motorbike journey next, perhaps to a single country like Brazil, and, at some stage, of spending a spell on a wildlife conservancy in Kenya, buzzing around in his own light aircraft.
Both his father and brother fly and, despite feeling sick in his brother's Tornado, McGregor has started lessons at a flying school. He is not sure why he did not take up flying before. The breakthrough came in Kenya during Long Way Down when he was taken up in a light aircraft to check on poachers and game in the conservancy.
"I have flown in the back seat of my brother's Tornado and lots of small planes, but I never thought it was for me. And then I got in the back of this Super Cub and the cables were running past my feet and it was really old and just as soon as I got into the air I thought, 'I have got to do it.'
"That tatty wee plane I have got a real problem with. All my bikes are old and slow and it is quite rare for me to have any new fast stuff. Yeah, I would really like a little plane like that."
He finds the sheer number of things he has to learn to do at once "overwhelming", but draws the line at flying helicopters, agreeing they are like "little sacks of death", although he would relish a flight into space where he could look down on Earth.
It was clear McGregor is still feeling his way in the world and wants to be responsible about how he uses his fame, conscious that his profile has given him a voice he can use to great effect for others. He has chanced on some causes he wants to help, all about children, putting considerable effort into supporting the Children's Hospice Association Scotland. He is also a Unicef goodwill ambassador, and his Long Way bike trips raised hundreds of thousands of pounds for Unicef projects in Africa and Asia.
I was glad to tell McGregor that I found one of his most recent films, Incendiary, which is showing this month at the London Film Festival, a searing experience. Its theme is the war on terror, horribly familiar for a journalist like me. In it, McGregor plays a journalist too, caught up in an emotional drama with a young mother (Michelle Williams) whose husband and son are killed in a suicide bombing at a London football game while the two of them are making love.
"Oh, good," he said. "It was a devastating plot." He felt particularly chuffed for his co-star. "It was the most incredible female lead I had read. I liked my character as well, but I was more excited by Michelle's."
"How will it do?" I asked. "I never really know," he said. "I don't pay any attention to box-office figures." I believe him, just as I did when he admitted, without a trace of arrogance, that he does not find working as an actor "very difficult".
McGregor is famous for two things: motorcycling and acting. It is clear that his motorcycling is more than skin-deep. His success as an actor is more of a mystery. His most recent films seem to be either quite appalling or okay, and he says he puts no special effort into acting. There is no need to. "I work a lot, really intensely, when I am there. But I don't find acting to be a strain as others might," he said. "I do not mean that arrogantly: just for me, I don't make it very difficult for myself." Perhaps that's the real key to success.