She never cracked
Aung San Suu Kyi served for 22 years as a beacon of hope in Burma's darkness. Jon Swain describes how she put country before family
The Sunday Times, 14 November 2010
On a hot August day in 1988, tens of thousands of people started to gather on the open ground west of Rangoon's most famous landmark, the magnificent Shwedagon pagoda. Somerset Maugham compared the sight of the pagoda rising above the city, glistening with gold, to a "sudden hope in the dark night of the soul".
His description could equally well have fitted the brave woman in a longyi with an orchid in her hair whom the people were flocking to see. In Burma, Asia's heart of darkness, she, too, stood as a beacon of hope.
Eighteen hours later they were still coming. The crowd swelled to close to a million. Many had camped throughout the night, bringing bedding and food with them. There was a buzz of anticipation in the air. All wanted to see and listen to Aung San Suu Kyi.
At the time they knew very little about this remarkable woman beyond her name. Now she is the most famous political prisoner since Nelson Mandela and a Nobel peace prize laureate for standing up to a "regime characterised by brutality". Yesterday, unbowed and as demure as ever, she was freed from years of house detention.
To the adoring crowds on that August day 22 years ago when her ordeal started, the name of Suu Kyi was very special. Her father, General Aung San, was Burma's great national hero. The reason so many had camped out in the open all night was because they saw in the daughter of this most revered figure in modern Burmese history their greatest hope for change after years of tyranny.
Suu Kyi was making a political speech for democracy and freedom at a critical juncture. Burma was in chaos after students had led a popular uprising against the military. Blood flowed in the streets from the crackdown that followed.
General Ne Win, the ageing and hated dictator who had dominated Burma for three decades of economic stagnation and isolation, had resigned. His successor Sein Lwin, who had ordered troops to open fire on massed demonstrators demanding an end to military rule and the introduction of democracy, had also quit. It was hoped that the third president in a few weeks, Maung Maung, would make significant concessions. It turned out to be a vain hope. Burma is still in chains.
Suu Kyi's speech that day, though, was a defining moment in her life. It marked the instant when she turned her back on her comfortable life in Britain and returned to her roots.
Asia has had its share of family dynasties. In India son followed mother, in Pakistan daughter followed father, in the Philippines widow followed husband. But nowhere has the idealism and sense of duty been as strong and principled as in the case of Suu Kyi, who that day took the heartbreaking decision to put her commitment to Burma above her family, a decision she has stuck with through thick and thin.
Suu Kyi took the heartbreaking decision to put her commitment to Burma above her family, a decision she has stuck with through thick and thin. Until a few months before, she had been an Oxford housewife, living happily with her husband, the academic Michael Aris and their two children Alexander and Kim, in a smart townhouse near St Antony's college. Now she was deliberately entering the brutal and devious world of Burmese politics. She has never emerged from it. Her lonely vigil, which began with her addressing the crowds that August day in 1988 challenging the generals, has continued unbroken to this day — much of it under house arrest, and at a tragic personal
cost. For as well as a political story, Suu Kyi's is ultimately a family tragedy. She arrived at Oxford in 1964 to study philosophy, politics and economics at St Hugh's, where her contemporaries remember her "absolutely delectable" beauty — a flower always in her long dark hair — and her innocence of the social and sexual Sixties revolution roiling around her.
Aris met her at the university and courted her on a romantic holiday in Bhutan, where he was teaching. At their wedding, Kipling's poem Mandalay was recited: "I've a neater, sweeter maiden in a cleaner, greener land! On the road to Mandalay..." Aris loved those words, which he believed perfectly described his wife.
But he also once said: "Before we married... I promised my wife that I would never stand between her and her country. And I have never tried to deter her from fulfilling what she sees as her duty to her people. Any person knowing her dedication to duty as I do would realise that such an attempt is sure to fail. March 1988 her mother suffered a severe stroke in Rangoon and Suu Kyi went out to nurse her. Although her visit coincided with the greatest political upheaval for decades, she initially took no part in it. When protesters discovered Aung San's daughter was in the city, they pleaded with her to become their leader; but she was reluctant.
"She just wanted to help to stop the killing," a former student activist told the BBC's Mike Wooldridge recently. "She didn't want to play any political role. I said: 'You are General Aung San's daughter. We really need you.' So I persuaded her... was her sense of duty to the country where her father had died a hero that forced her to pick up the torch for freedom he had once carried and campaign against the generals.
Aung San was assassinated in 1947 on the threshold of gaining independence for Burma from Britain. Aged two, his daughter was too young to have known him. But she cherishes the photograph she has of him holding her in his arms and, although she had left Burma at the age of 15, she was never allowed to forget she was his daughter.
On that day in August 1988 beside the Shwedagon pagoda she told the adoring crowd that the political uprising was a "second struggle for national independence" and, as Aung San's daughter, she could not remain indifferent.
"It is true I have lived abroad," she said. "It is also true that I am married to a foreigner. These facts have never, and will never, interfere with or lessen my love and devotion for my country by any measure or degree."
It was at that time that western journalists, including myself, who had smuggled themselves into Burma to cover the mass demonstrations against military rule, first met her.
We did so at the family's rambling colonial mansion at No 54 University Avenue, where she was nursing her ailing mother who would die soon afterwards.
The impression of that first meeting has stayed with me. Her demure and willowy appearance masked a rock-solid will. None of us realised how strong it was, because she was always beguilingly gentle and soft-spoken even when she criticised the brutal generals.
I noted that Suu Kyi was full of hope for her country. Wherever she appeared she was feted, and nothing seemed to intimidate her. Once, when soldiers took aim and warned they would shoot if she continued walking down the middle of a road, she kept on walking.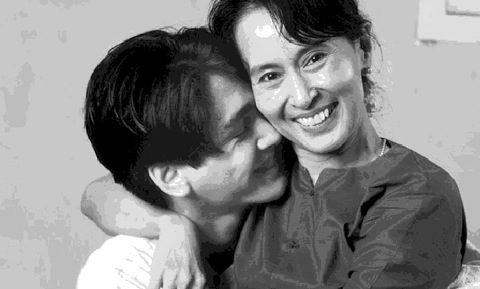 Aung San Suu Kyi pictured with son Kim in 1995 (Robin Moyer) "Fear is a habit," she liked to say. "I have spent most of my life in places where I have not had to be frightened and so I am not afraid."
It was courage such as this that made the military realise she was their gravest political threat. In almost any country her youth, beauty, integrity and popular support would have guaranteed such a political figure a measure of protection. But not in Burma, where within a few months Suu Kyi would be invisible, under house arrest. And it was here that her family tragedy began.
Denied a visa to Burma to see her, Aris worked tirelessly behind the scenes on her behalf. This shy Oxford don and Tibetologist in a tweed coat never let on about his own agony and despair over their forced separation over the following years, bringing up Kim and Alexander virtually on his own.
The brothers have rarely seen their mother since, the Rangoon regime having cancelled their Burmese passports. I remember witnessing a sad scene at Bangkok airport when Aris was trying vainly to comfort the distraught boys after they had again been separated from her.
Suu Kyi maintained publicly that her country was more important than her family, but confidants saw a different face. One recalled: "She felt guilty. She worried about her sons. She tried not to cry but I know she's a human being .... She said, 'I really miss Kim [her younger son]. I really miss his attitude — he's really naughty.'"
Because of Aris's retiring nature, few outside their close family circle knew how wonderfully effective he was on behalf of his wife. The award of the Nobel prize for peace largely came down to his unstinting efforts. He could lift the telephone and call political leaders, and it was largely because of him that Suu Kyi continued to have the strong support of the Foreign Office while she was under house arrest.
In 1999 Aris himself was dying of prostate cancer at the age of 52. Suu Kyi made the heartbreaking decision to stay under house arrest in Burma, knowing that if she were to leave to see him, as the ruling junta cynically hoped she would, it would never let her back. Nor would it allow Aris to visit her.
She talked about the dilemma to John Jackson, a British political activist who met her in Rangoon at the time. He told Wooldridge: "She was trying to see him, but the regime was refusing him a visa to enter the country ... Her movements were restricted — she couldn't simply leave the country.
"The man that she loved and the father of her children wanted to see her, and she didn't know how many months he had left. She seemed strong, she seemed — I'd say — stoic, but she let it be known that this was something that was dominating her thoughts. She wouldn't in any way try to cover the fact that this was an extremely important issue for her."
Aris had always known that one day his wife's sense of family political destiny and obligation as Aung San's daughter would compel her to go back to Burma. Even on his deathbed, he kept his word that he would never ask her to come back to him, and he died in Oxford without her at his side.
All this caused much strain and grief to those who were close to the couple. They have remained fiercely loyal to Suu Kyi, however, respecting her position to put her country above family, hard as it has been. Despite the huge personal sacrifices she has made, it is certain that Suu Kyi's resolve to change Burma is still intact.
Few prisoners would have the inner strength to survive so many years of isolation without cracking.
We know that Suu Kyi has kept to a strict daily routine. When he was alive, Aris told me that she rose in the morning at six, fed the crows in the garden as an act of Buddhist merit, a custom she had inherited from her mother, and then ate a simple breakfast of noodles.
He expected that the rest of her time was spent reading and meditating and playing old favourites on the piano. Armed troops surrounded the house, but the only weapon kept in it was a Japanese ceremonial sword that belonged to her father.
The piano has rotted away in the tropical humidity, but she now reportedly listens to the BBC six hours a day. An American official who visited her recently found an exceptionally well-informed woman — "she knows more about the world than almost any person I've ever met".
In 2006 she suffered health problems, and in 2007, when protests broke out again echoing the uprising in 1988, the military took her telephone away.
The military's justification for first detaining her was that she had "committed acts designed to put the country in a perilous state". The truth is that the military was frightened of her huge popularity. It undoubtedly still is.
The fact is, though, that the brutally suppressed 1988 uprising was the single best opportunity Burma has had to rid itself of military rule. The opportunity to force change was lost, and some think that Suu Kyi may have contributed to the failure by always rejecting violence. Highly principled and believing in Buddhist pacifism, she has never wavered from her belief that military force can be overcome by moral force.
During occasional visits to Rangoon, I used to make a point of driving past her house to gauge the atmosphere. Sometimes the driver was frightened of slowing down and being noticed by the soldiers and would accelerate away. "We love her but we are afraid to show it," one said. At other times there was little or no problem.
Periodically, the regime would have a fit of paranoia and make the conditions of her house arrest stricter. Confiscating her telephone was one particular example.
Now she is free again. But nobody can say how long her freedom will last this time. She has been released before, only to have her house arrest reinstated.
Suu Kyi also always demanded that no conditions should be attached to her release and she is unlikely to compromise on this. While releasing her, the regime is highly unlikely to free the 2,100 political prisoners that it is holding, and it is bound to keep a close watch on her movements.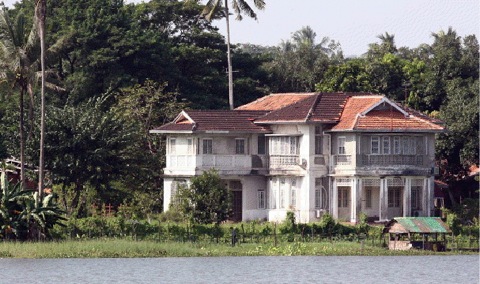 The house where Aung San Suu Kyi was held (EPA)

It would be good to think that her 15 years under house arrest have had a positive influence on the way Burma is governed. It is a great personal triumph that she has stuck to it, an extraordinary feat of willpower. But her release follows fraudulent elections that resulted in a political party closely linked to the military regime winning most of the seats in parliament, so it is questionable whether she can achieve any lasting change in her country.

Before her release, her top allies were saying that she would help investigate allegations of election fraud when she was free. But as she takes her first steps of freedom, many people in her country, including her supporters, will be asking whether she can still lead her people to a better future. In her long absence the opposition has fractured.

Her political party, the National League for Democracy, which won a landslide election victory 20 years ago but was not allowed to take power, refused to participate in the latest elections and was forced to disband.

Many will be thinking that the generals surely would not have set her free her unless they had decided that, at 65, she no longer poses a threat. Her release would be a bittersweet triumph indeed if this turned out to be true.






Burmese days

1945 Born in Rangoon

1947 General Aung San, her father, assassinated

1960 Moves to India when her mother is appointed Burmese ambassador

1964-7 Studies philosophy, politics and economics at Oxford University, where she meets
Michael Aris

1969-71 Works for the UN in New York

1972 Marries Aris. They go on to have two sons

1988 Returns to Rangoon to nurse ill mother. After a mass uprising in Burma is brutally
suppressed by the military, leaving thousands dead, she makes her first public speech, calling
for democracy

1989 Placed under house arrest

1990 Her National League for Democracy (NLD) wins election victory but is denied power

1991 Awarded Nobel peace prize

Released from house arrest

1999 Aris dies of cancer four years after she had last seen him

2000 Placed under house arrest

2002 Released from house arrest

2003 Imprisoned after supporters of the military clash with NLD. Later placed under house
arrest

2007 House arrest extended by one year, but appears in public for first time in four years
during protests by Buddhist monks