On the trail of Pol Pot's killer-in-chief
Tomorrow the Khmer Rouge's top murderer will learn his fate. Jon Swain meets the man whose hunt led to a historic trial

Jon Swain


The Sunday Times, 25 July 2010


Thirty-one years ago, as the Khmer Rouge regime collapsed and its leaders fled Phnom Penh, invading Vietnamese troops came across an abandoned prison where the bodies of tortured prisoners were still shackled to beds and the floor was splattered with their blood.

This vision of hell was Tuol Sleng, a lycée that Pol Pot's murderous regime had converted into its main extermination centre among nearly 200 prisons it ran in Cambodia.

In the classrooms turned into torture chambers the centre's director, Kaing Guek Eav, better known as Comrade Duch, tormented and killed the regime's enemies. He had the prisoners brought in, photographed and savagely abused to write confessions, to which they attached thumb print and signature before they were taken away to be killed.

At Tuol Sleng his prisoners were beaten, suffered electric shocks to their genitals, had plastic bags tied over their heads and were plunged head first into vats of water while suspended from gallows by their feet in what was once the school playground.

Tomorrow, after a lengthy, ground-breaking trial by a United Nations-backed tribunal, Duch, a former mathematics teacher who joined the Khmer Rouge to become Pol Pot's chief executioner, will learn his punishment. Some of the 11 people who came out of the prison alive will go to the court to hear the verdict.

Prosecutors have demanded the 67-year-old be sentenced to 40 years in jail on charges of war crimes, crimes against humanity, murder and torture for overseeing the execution of some 15,000 prisoners.

Duch's guilt is not at issue.

Like the Nazis, the Khmer Rouge had a mania for documenting its deeds and the documentation survived its tyranny. It includes photos of victims, with agony and terror on their faces, as they faced the end. Duch's signature is on the death warrants, including one in which he says: "Kill them all."

Despite his admission of guilt, the trial has been no routine procedure but a defining moment for Cambodia.

It is the first time a Khmer Rouge leader has faced justice. The little southeast Asian country was for years too broken and frightened to consider putting any such leaders on trial.

With the death in 1998 of Pol Pot, the soft-spoken, French-educated Marxist ideologue who masterminded the revolution, the possibility that it would onfront its bloodstained past became more unlikely. Duch's trial has changed that, setting the stage for the trial of the four most powerful surviving leaders of the Khmer Rouge, against whom Duch will be encouraged to be a key witness.

Duch himself would perhaps never have faced trial had it not been for Nic Dunlop, a young Irish-born photographer who found him in the dying days of the Khmer Rouge movement. Dunlop met Duch, who had become a Christian in a camp of Khmer Rouge remnants in the far west of the country, in 1999.

At first Duch said he had translated children's books during the Khmer Rouge period. Later, however, he admitted that he had been the commandant of Tuol Sleng and confessed that, whereas he had once believed in communism and had thought killing was the right way to conduct a revolution, he now realised this was wrong and he was sorry.

Duch's volte-face set in motion the train of events leading to tomorrow's verdict.

Although Dunlop insists his encounter with Duch was a result of chance and good luck, it was in fact the culmination of a personal quest. Dunlop was determined to understand what had happened to Cambodia under the Khmer Rouge, an obsession that had started when he was a schoolboy.

Dunlop had learnt how between 1975, when the Khmer Rouge seized power and began its attempt to create an agrarian communist utopia, and January 1979, when its calamitous social experiment collapsed in defeat by the Vietnamese, 2m people had died from disease, malnutrition and overwork — about 31% of the population.

The result of Pol Pot's primitive ideology was that Cambodia became a labour camp. People toiled like ants in the fields day and night and thousands perished. Those who were not borisot — pure — were tortured and killed. Tuol Sleng and Duch were at the heart of this web of terror.

"The idea that a whole country could vanish and emerge so destroyed was so far removed from my own comprehension that it became impossible to ignore," Dunlop said. "The fact that these people were not only alive and well but were at the time fed and fattened on Chinese and western aid seemed outrageous to me, so I began reading about it and following it in the papers, lobbying MPs and went to Cambodia when I was 19 to see what was happening myself."

The day after his arrival in Phnom Penh, Dunlop went to Tuol Sleng and saw Duch's handiwork. Little by little, Dunlop decided that he would set out to find him. Against all the odds, he did.

Although he has given evidence and followed the trial, Dunlop, who has written a book, The Lost Executioner, about his quest into the dark soul of Cambodia under the Khmer Rouge, will not be attending the verdict. He regards it as, above all, a Cambodian matter and plays down the part he played in bringing to trial one of the country's most notorious killers. But he will be reading about it and trying to interpret what it means.

He says it is easy to attack the trial. There are many imperfections and a lot of the criticisms are probably valid. For a start, it has taken 30 years to bring the Khmer Rouge to trial. There has been some undoubted political interference from the government of Hun Sen, the prime minister, himself a former Khmer Rouge member on whom the UN forced the tribunal.

But Dunlop believes that perceptions have changed dramatically during the trial.

"By the end, you had something like four national TV stations airing the proceedings live. One channel claimed a staggering audience of 2.5m, which for a country as small as Cambodia is amazing."

Dunlop thinks that the few survivors of Tuol Sleng who attended Duch's trial will feel that their rights have been upheld, although they remain angry with Duch.

"I find it impossible to dismiss the trial," he said. "The people I take my cue from are the people in the countryside. You will still find people who have never heard of Duch, but that is changing and Cambodians have started to learn about their own history."

Dunlop asked one group of villagers what they thought would be a fitting punishment for Duch, expecting them to say he should be killed. But not one said that. "To kill him would be too easy," they said.

One said he should be put in a prison cell for the rest of his life with the photographs of his victims pasted on the walls so he could reflect on what he had done. Another said Duch should end his days in prison reading the confessions of his victims.

Although Duch has admitted his guilt, he has also used the Eichmann defence of following orders. Is his contrition genuine? Nobody knows.

"When he stood up and apologised for the very first time, he spoke from a prepared statement that had taken him probably 10 years to work out," Dunlop said. "Duch was saying all the right things, asking for forgiveness, saying the crimes were horrific and that he was overall responsible for them.

"It was his delivery that completely incensed everybody, particularly the victims. He was arrogant, authoritative, lecturing, as the teacher he was." But, says Dunlop, Duch is the only Khmer Rouge figure who has publicly acknowledged his responsibility, apologised and asked to be forgiven. "For me, it's important to believe that people can change. To think otherwise is to embrace what the Khmer Rouge believed: that people are beyond redemption and must be killed."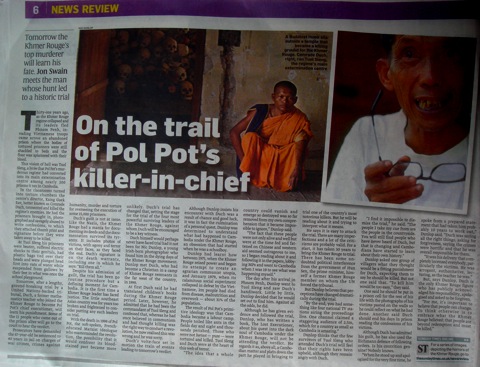 © 2010 Times Newspapers Ltd. All rights reserved