Jon Swain - writer and foreign correspondent


Robert Mugabe closes in on last white farmers


Jon Swain

The Sunday Times, 31 January 2010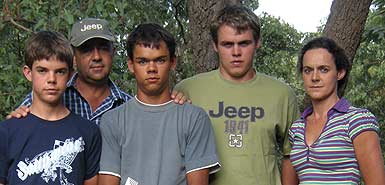 Armed mobs encouraged by Robert Mugabe and his cronies forced Ray Finaughty and his family off their land

FOR Ray Finaughty, the dream of farming Africa's rich soil has ended as the campaign to drive Zimbabwe's white farmers from their land enters its final stage.
One by one the last white farmers are being beaten into submission. Four more had their farms seized by marauding gangs last week.
"They do not want us whites," one farmer said.
Finaughty, 43, will never forget how his world came crashing down. One moment at his Manda farm there was stillness. Then came a burst of noise and confusion. A screaming, drunken mob hammered at the gates.
It was the climax of a two-year eviction campaign against him. He had fought step by step in the courts. Their judgments in his favour were all ignored. With no respect for the rule of law in Zimbabwe, he finally lost the battle.
Armed with spears and sticks, a mob threatened him and his wife, Loraine, by driving a tractor against the gate of their home. "We're going to kill you," they said. The family were given 10 minutes to pack their life's belongings.
It was not the first attack that Finaughty had weathered. In one savage beating his attackers suggested breaking his legs as he lay injured in a field. "Leave him. He's dead," he heard one of them say.
Finaughty crawled away and saved himself. He had four broken ribs and concussion.
Another time, acting in self-defence, he had to shoot dead an armed robber who broke into his farmhouse. The police were sympathetic and took no action. But they treated the seizure of his farm differently.
"This is political. It's a hot potato. We can't get involved," said Vengisai, the chief inspector, when Finaughty contacted his office.
So the Finaughty family drove away from the farm they loved. Soon, they believe, much of the land they had cultivated will be derelict.
Behind them they have left 90 loyal workers and their families, some 400 people in all. They have been forced to abandon 6,000 chickens, 190 head of cattle and a valuable tobacco crop, all of which could be lost.
"You have to take it on the chin and walk away," Finaughty said in Harare last week. "That's the bottom line."
Finaughty was born in Zimbabwe and is proud that his great-grandfather was one of its first white settlers.
He bought Manda, east of Harare, in 1994 and made it into a successful enterprise. He did everything he could to comply with President Robert Mugabe's chaotic land reform programme. In 2001 he accepted giving up three-quarters of Manda, which was sub-divided into 86 plots for black Zimbabweans with whom he peacefully coexisted.
"I don't play politics. I believe we whites are in Africa as visitors," he said.
Afterwards he kept his head down and stayed on what remained of his farm, more than 1,600 acres, which have now been violently taken away from him.
The culprit is Winnie Mushipe, a top official of the Reserve Bank of Zimbabwe. But behind her is believed to be Didymus Mutasa, one of Mugabe's old guard.
Two years ago Mushipe was controversially allocated the farm by Mutasa, then the lands minister. A former head of the state intelligence service, Mutasa has been a notorious supporter of Mugabe's campaign to run the rest of the whites off their farms.
Mushipe had no legal right to seize the farm. She had followed no legal procedures.
The Commercial Farmers Union (CFU) accuses Mutasa of orchestrating some of the worst of the latest farm invasions. He owns more than 10 farms in the area.
"An evil bastard," is how one evicted farmer described him after Gavin Woest, another white farmer, was allegedly threatened with death and told he had just minutes to leave his farm, which Mutasa's wife coveted.
Mutasa was unrepentant. "These white people create stories," he said. "I have not gone to America or Britain for land. I get my land in Zimbabwe, which is my country. What's wrong with that?"
Since 2000 some 4,200 white farmers have been driven from their land and at least 18 have been murdered; Don Stewart, the last to die, was strangled and burnt to death in his farmhouse in December.
Of the 300 still farming, more than half have been served with official eviction notices. In another blow, Zimbabwe's High Court last week rejected a South African regional court ruling, which the government was meant to follow, that the land seizures were racist and illegal and white farmers should be allowed to return to their land.
"Enforcement of that judgment would be fundamentally contrary to the public policy of this country," said the judge.
"Without a doubt the agenda has always been to get rid of us whites. They do not want us," responded Deon Theron, the CFU president.
He had hoped that the unity government would oppose the new wave of seizures. Since becoming prime minister in the unity government, Morgan Tsvangirai, leader of the Movement for Democratic Change (MDC) has dismissed the seizures as "isolated incidents".
"They [the MDC] cannot be seen to be supporting white farmers. They are still caught up with that, instead of saying what is right is right and wrong is wrong," Theron said.
"This is happening at a time when we need investors to revive the economy. But no investors want to put their money in a country that has no respect for property rights or the rule of law."
As he spoke, the telephone rang in his office with news of another invasion, this one of a farm belonging to Rudolf Du Toit, a neighbour of Finaughty.
A drunken mob was scaling his security fence. Du Toit, 69, fired shots in the air to keep them out. They told him that he was leaving "dead or alive".
In the end he left alive, with just a suitcase of clothes.
"By the next election there will not be one white farmer on the land," said Thomas Beattie, 67, a veteran farmer who was driven off his farm in November, even though he was once a Zanu-PF supporter.
"It is nothing less than ethnic cleansing."
Photos expose regime's diamond grab
This is the first picture proving that Robert Mugabe's military still controls a fabulously valuable diamond field, despite the government giving an international undertaking that the occupation has ended.
The picture and others show a camp for soldiers and an airfield under construction at Marange in the east of the country. The 6,500ft runway is for military transport planes and appears to have a fortified control tower.
"It is clearly a military airfield and obviously not for diamonds or for bringing in mining equipment," said one defence expert. "It seems to be a base camp to make the diamond field impregnable."
The military massacred more than 200 people when it took over Marange in 2008 as its riches became apparent. The government had seized the field from a British-registered mining company, African Consolidated Resources, which had discovered the diamonds.
Last year, after documenting "unacceptable violence against civilians", including forced labour, torture and beatings by soldiers, the Kimberley Process — the international body that regulates trade in rough diamonds to ensure they do not fund conflict — came under pressure to ban all Zimbabwe diamond sales.
It relented after an assurance from Obert Mpofu, the mines minister, that soldiers and police had withdrawn and Zimbabwe would comply with regulations to exploit the field responsibly.
The pictures, taken a few days ago, show Zimbabwe to be in non-compliance and are likely to revive calls for a ban.
The Marange diamonds, worth tens of billions of dollars, are Zimbabwe's most valuable asset. If exploited honestly they could transform its broken economy.